And by clamoring fans, I mean my sister who is currently the only one reading this thing.
Now, for a little bit of info about the hub.
This is the hub: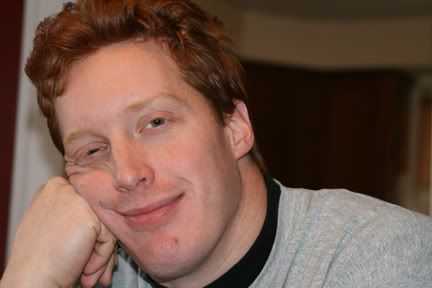 Believe me when I say that's about the most flattering photo I have of him. He has a tendency to do this goofy smile thing that makes his eyes all squinty giving him the appearance of a drugged-out stoner in almost every other photo we have. I'm quite confident the hub has never had a toke in his entire life.
Doesn't he have gorgeous hair, too? It's this thick, lovely, curly auburn hair and it's completely wasted on a boy. He used to shave his head completely bald in college because he would get too hot during football and track practice. It was still shaved when I met him, but I thankfully convinced him to grow it out. Now our son has the same gorgeous red hair. So completely unfair.
We'll celebrate our fifth wedding anniversary this fall.
Awww....
We met at a bar eight years ago when I was still in college, and he called me three days later (amazingly, we both remembered each other although some parts of that night are a bit hazy). We talked on the phone for almost three hours that night, and I knew he was the boy I was going to marry.
Don't get me wrong, our marriage is far from perfect. We have issues with assuming things and not always communicating properly, but I can't imagine life with anyone else.
One of the things that most attracted me (besides his 6'4" frame, which is important when you're 5'10" like me) was the fact we had such similar backgrounds. He also grew up on a farm, close to extended family and he's Lutheran. Even the same flavor of Lutheran as my family - the
Lutheran Church - Missouri Synod
.
This is the view where he grew up:
His parents live on a small farm that's been in their family for more than a century. It's also out in BFE on a gravel road and 10 minutes from the nearest small town. I love going to visit the ILs because it's so peaceful and quiet out there. My family's farm is on a highway, so there's quite a bit of traffic that goes by.
The hub still likes to play farmer about twice a year and help his dad out in the fields in the spring and fall.
The ILs farm is very quaint with lots of neat buildings:
And pretty flowers:
The one thing they don't have is an old outhouse. I guess my family wins for that (no, we don't still use it, unless you want a raccoon or other wild creatures watching you do your bidness):
Whoops, got off on a bit of a tangent, there.
The hub is currently a software engineer for a large avionics communications company. He likes the fact he gets to build code that does cool stuff on big planes. He doesn't like the fact he sits in a little cubicle staring at [two, rather large] computer screens all day.
In our perfect world we would eventually take over our families' farms, though that dream is somewhat fading with each passing day. We'd settle for 80 acres or so out in the country where the hub can have his toys (and by toys I mean tractor and a big diesel truck), our kids can run around and explore outside and we can [theoretically] have a nice big garden and the idyllic country life.
We'll see if that ever happens.