Did you know I'm royalty?
Yep.
I was crowned the 1997 County Fair Queen.
See:
Nevermind the horrid photo. It was something like 95 degrees that day, with 90% humidity and the crowning was held in a tent. That was after riding for an hour in the fair parade, which meant sitting on top of a convertable in a long, non-breathable prom dress in the scorching sun. I had also decided I was going to get my hair cut in a sassy, shaggy Meg Ryan do earlier that summer. Only my hair decidedly does not do sassy and shaggy. It
does
do limp and boring quite splendidly, though.
There was stiff competition that year. I think there were 12 other contestants besides myself. We gave up one Saturday in June for the interview process (held in the basement of a local bank). There were group interviews, individual interviews and two changes of outfit (including the lovely prom dress pictured, which my mother made). I must have made a good impression (or was the best bullsh*tter) because I was chosen the lucky Queen.
I received a 3' high trophy, crown, sash, free headshot from the newspaper, assorted gift certificates and maybe even a small scholarship (hey, it was 11 years ago, I can't remember that far. I'm lucky if I remember what I ate for lunch yesterday anymore).
My official duties included greeting my loyal subjects (wandering around the fair saying hi to fairgoers), posing for royal portraits (with prize-winning livestock) and rewarding patrons with monetary gifts (drawing the winning number for the nightly $100 giveway at the Grandstand show). Oh, and participating in the pie-eating contest. I also rode in the parades for one or two small-town celebrations later that summer and worked at the Fairboard dinner that winter.
But the big one was competing at the State Fair for the title of State Fair Queen.
There was a lot of pressure because just two years before me, the Fair Queen from our county had been crowned State Fair Queen. I wanted to bring home that title again.
There was a lot more competition at the state level. Instead of 12 contestants, there were 100. The interviews were more difficult and, considering I had yet to develop my fabulous sense of fashion, my choices for the various outfits were somewhat questionable.
It was a good time, though: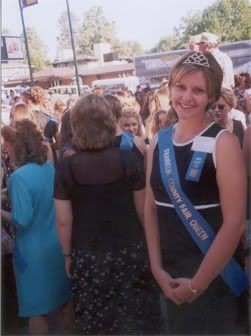 I got to ride in the fair parade, have free entry to the fair and do some fun things. I didn't win. I didn't even place. I was probably somewhere in the middle as far as contestants go. I remember doing just average during the interviews - sometimes when I get nervous, my brain overrides my mouth and I end up sounding like a blathering idiot. I'm pretty sure that happened, more than once. And my homemade prom dress looked silly and shabby compared to some of the other contestants.
But it was a good experience. Plus, while both my sisters also ran for Fair Queen, I was the only one who one (ha!). I can reminisce about my time as royalty when the hub, kiddo and I go to the State Fair this Friday.