One of my LJ friends coined a term combining the words hair and history: hairstory. A pictoral evolution of ones personal hairstyles.
My hairstory is fraught with bad 80s and 90s hair (though not as bad as my sisters, thank goodness).
I had the usual little girl "bowl cut with bangs look"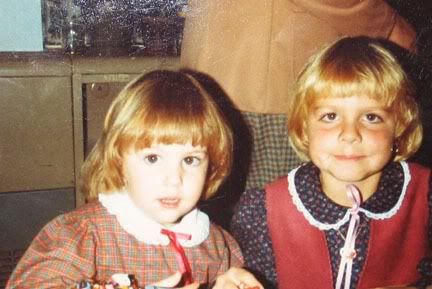 (that's my
lovely sister
sporting the similar blonde 'do on the right)
I had the poodle perm through most of late elementary and some middle school (no pictures easily accessible, though, thank goodness. Let me tell you, I was one rockin' chick with my poodle perm and huge glasses.)
I kind of started caring about what my hair looked like in high school, but was always too lazy to really style it. Junior year I got it cut in "the Rachel" but rarely took the time to do anything with it.
And so began the neverending cycle of "Grow it Long/Cut it Off."
Junior year of college, it was really short: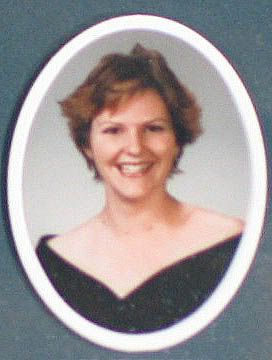 I kind of liked it, but was a PITA to keep up because you had to get it trimmed every 6 weeks or so. And when you have it short like that, you do have to style it, or it just looks icky. So I grew it out.
It was the longest I think it's ever been right before my wedding - about to the middle of my back. That's something for my poor, lifeless, thin hair.
It was similar to this: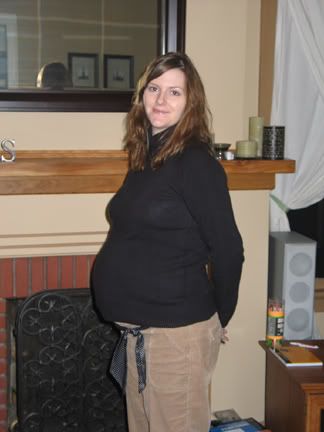 I'm pregnant with the kiddo here, so it was about 3 years ago.
I've gone a little shorter since then, but nothing shorter than chin-length. For a while, I had a Pob, the reverse bob as made popular by Posh Spice, but decided to grow that out to my current style: boring bob.
I'm bored with my hair again. I realized this as I was drying and styling it this morning. I hate drying my hair. Hate it. But I have to if I want it to look even somewhat remotely decent and non-bagladyish. And I never know how to style it. It never seems to look like I want it to in my mind's eye.
I'm in the middle of the Grow it Long portion of my cycle and I have to decide if I want to keep growing it out or get it cut off. I'm due for another haircut in a few weeks. Blah. I never know what to do with my hair. I'm in dire need of a date with Lady Clairol, too, to color my hair and try and get rid of the redness/brassiness that always comes with at-home color.
As an aside, I'm trying out some new shampoo and conditioner as I'd finished my Burt's Bees stuff I talked about
in this post
. I saw
these
at Target and decided to try them out:
Say Yes to Carrots Shampoo
and
Conditioner
I like them so far. The smell is nice, though it took a little getting used to after the Burt's Bees stuff - the Yes to Carrots is more clean and not as floral/herby as the Burt's Bees. I like how it makes my hair feel and I don't have to use a ton to feel like I'm getting my hair clean.