Only two weeks late.
The kiddo finally decided on Bob the Builder for Halloween. Sweet, it was a fairly easy costume. We went to Theisens and found a pair of overalls and the Bob the Builder hard hat and tool belt toy kit. I bought a plaid shirt at Old Navy that he can wear again and he wore his own scruffy tennis shoes. Voila! Bob the Builder: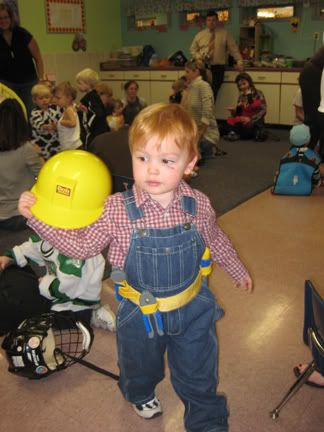 Note the mark underneath his eye? He had a run-in with our dining room table and the table won. He also got a haircut a few days later, so he no longer looks like hippie.
The kidlet didn't dress up. She had a cute poodle costume she wore for about 20 minutes during a Mommy and Me-type group, but instead opted for the hand-me-down Halloween shirt from her cousin, LC.
It looked pretty cute even though she looks less-than-thrilled:
The kiddo didn't even get to trick or treat as we left shortly after work to head up to my parents so the hub could play farmer and help my dad out in the fields. He got more than he bargained for when he had to help contain a field fire one day.
And people say living in the country is boring.