It was lovely to have a few days off work and relax at my parents before Easter. If you could call not sleeping because the kidlet was totally off her schedule and up most nights relaxing, anyway.
We had a good time, though the weather wasn't quite as warm as I'd hoped. We didn't even get out and walk around the feedlots or check out the new big tractors. That's what I get for lugging the big double stroller all the way there and back - I didn't even pull it out of the back of the Outlook.
The kiddo had a good time, too. It's always more fun to play at Grandma and Papa's because they have cool toys. Old toys from when my sisters and I were younger, like the
Little People Sesame Street playset
or a really old Tonka van and pop up camper.
On Friday we actually ventured into town because the local feed store had chickens and ducks. The kiddo loved that, can you tell?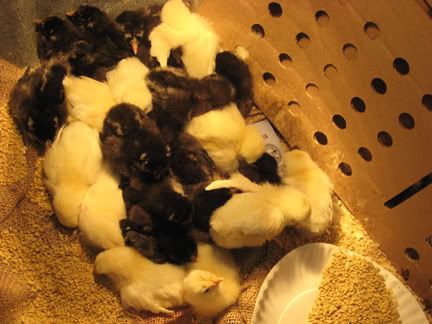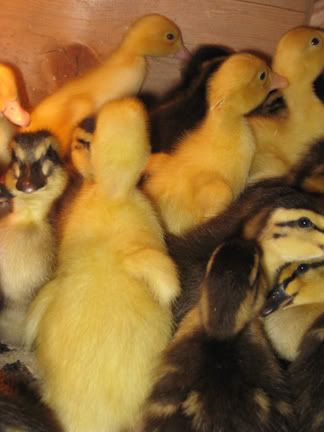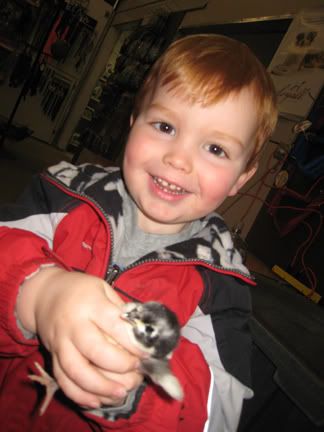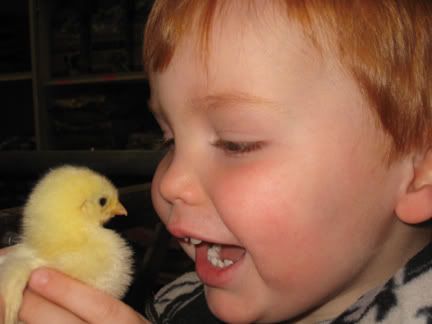 He did a really good job being gentle and holding them very carefully. There were no unfortunate Easter chick tragedies. He really loved the ducks, but they were a tad wiggley for his taste. He really wanted to bring one home, but I told him we couldn't. My dad would probably laugh, but I wouldn't mind having chickens at some point. At least I wouldn't mind the idea of chickens. The reality might be a different story.
After that we met up with Papa (my dad) and got to see some baby cows at one of the farms.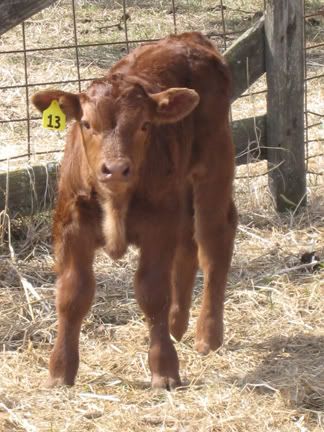 Isn't he just so pretty?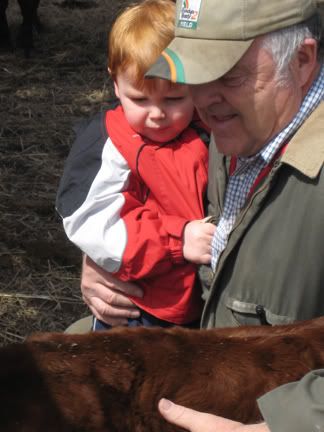 With Papa and a camera-shy calf. We liked looking at the cows from far away, but up close they were kind of scary. You can't see it in the background, but there are some very watchful mama cows hovering in the background just making sure we weren't doing anything to their precious babies.
I haven't informed the kiddo of the proper terminology for cattle yet; to him they're all either cows or baby cows.
The kidlet slept through seeing the baby animals, but she had an enjoyable Easter, pink bunny ears and all...
She was bound and determined to get at that marshmallow bunny. I didn't have the heart to tell her you need more than two teeth to eat them. Poor girl, let's just start with rice cereal and pureed veggies and work up from there. Maybe next year I'll let her have one.