Much of last week was spent back in my hometown enjoying the county fair.
Despite being abnormally chilly and windy for July (it was in the mid-60s on Friday - brrrrr!) we had a great time.
The kiddo actually liked going around and looking at animals this year. He also was excited about riding the little train that goes around the fair. Last year he was too scared to ride it.
And, wonder of wonders, he even went on a few midway rides! Of course, he threw a fit when I said we were done and it was time to go home, but it's a definite improvement from last year.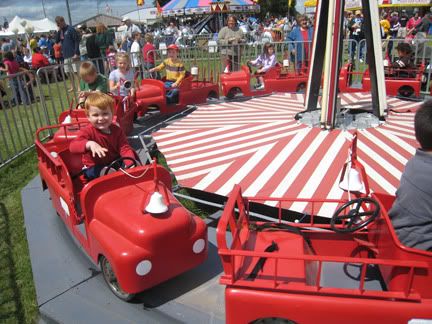 Here he's enjoying the firetrucks (he really liked ringing the bell).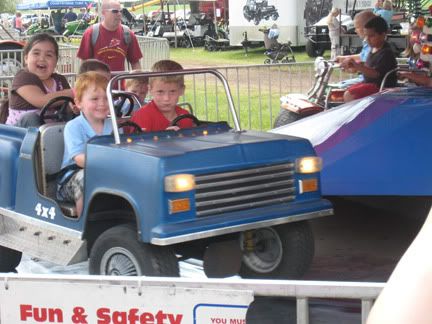 He was also navigator in a blue truck. He loved it.
My parents had a full house, too. Both my sisters and their kids came back for the fair and we all stayed at the farm. It was a little chaotic with five kids aged 10, 6, almost 4, 3, and 9 months, but everyone got along well and I think my parents secretly liked it (though I think dad could do without all the dirty diapers in his garage).
On Sunday, the entire family went out to eat to celebrate my parent's 40th wedding anniversary.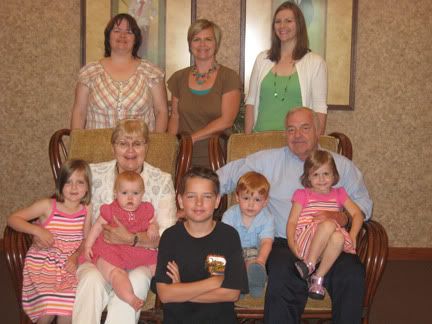 They were actually married on July 20, 1969 - the same day the man walked on the moon (which makes it easy for my dad to remember). I feel very blessed to have parents who are such wonderful role models for my own marriage. Things may not have always been perfect, but they worked through them together. Congratulations mom and dad. We love you!
They're leaving for a wonderful vacation in Ireland, England and Scotland. Do you think they'd notice if I stowed away in their luggage?
Things have settled down for a bit now, which is good. If only the weather would cooperate. It's been cool and rainy lately - I want summer back!