This week on
iheartfaces
, the focus is on "sports in action" and pets. Seeing as how I don't have any action shots of any sports-related things on my hard drive, I'll have to go with a pet photo.
This is Ripley, our first "child."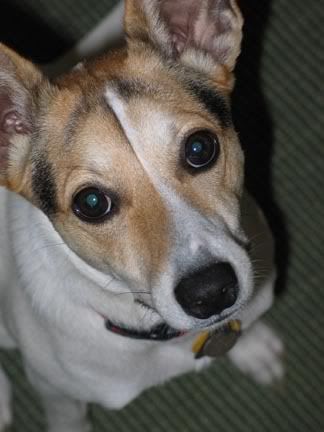 She's a Rat Terrier/Spitz mix dog we adopted from the local shelter a few months after we got married. She's smart -- too smart sometimes -- and a great dog, even if she does shed. A lot.
She's not too fond of the fact she's been knocked down to 3rd child after the kiddo and kidlet (nor is she too happy the kidlet has discovered grabbing the dog's tail is "fun". She
does
like the fact the kidlet has started eating finger foods because more usually ends up on the floor than in the kidlet's mouth.). But she's a dear, and very protective of our family. How can you resist those eyes?
I can't wait until we move out into the country and Ripley has some room to run around and chase the squirrels. She won't know what to do with herself! Check out the other cute pet and sports photos at
iheartfaces
.