After a bottle of wine, that title isn't so easy to type!
Today is the hub's and my 6th wedding anniversary. We celebrated by getting up, going to church, getting groceries, working on painting the garage (the hub), taking the kids on a walk (me) and grilling out a very yummy dinner of steaks, eggplant, sweet potatoes, onion and drinking the last bottle of wine we have from our Long Island Winery tour the last time we went to NYC.
This is my favorite wedding picture: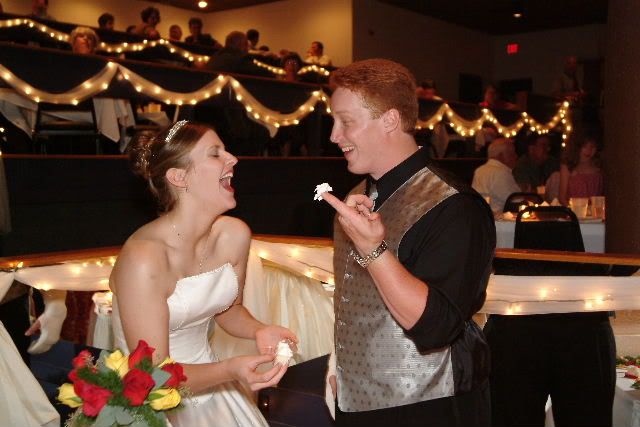 It's right after the whole cake-cutting ordeal. Instead of giving me a nice little sliver of cake, the hub scooped up a big chunk of frosting on his finger and gave me that instead. He knows me well, I love good, sugary buttercream frosting.
I love this picture because it so perfectly captures that moment. We aren't posed, we don't have cheesy frozen smiles on our faces. In fact, we're making rather goofy faces, and we're rather goofy people.
Happy Anniversary hub!