The theme this week for
iheartfaces
is Completely Candid. Looking through my pictures this week, I think I found the perfect photo.
I know I've shared this one before on here, but never as an iheartfaces entry. Every time I look at it, it makes me smile.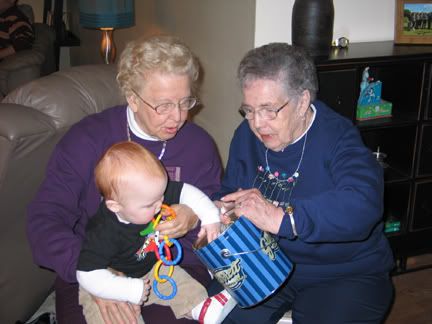 The kiddo was not quite nine months old in this picture, and these are the hub's grandmas (so the kiddo's great-grandmas). Collectively known as The Grandmas, they almost always come as a pair. They're both widowed and live in the same small town, attend the same small-town church and do a lot of things together. We love The Grandmas.
And, in typical Grandma fashion, they're encouraging the kiddo to get in to trouble. Nevermind the fact that at 9 months old he wasn't supposed to have popcorn yet. Really yummy fancy gourmet popcorn from Chicago at that. But he doesn't seem deterred, and neither do the Grandmas. The look on their faces is priceless, I just wish I had a better angle of the kiddo's face. I'm sure he was more than delighted at this new experience!
God bless The Grandmas. I hope they're with us for a long time to come.
Head on over to
iheartfaces
for more fun candid shots!