As always, I'm running a little late. Mom's birthday was actually Sunday.
Inspired by
my sister
(okay, so I'm copying her), I'm dedicating this post to our mother.
How do you describe someone who has taught you basically everything you know? Who has been there for you when you need her, and sometimes even when you think you don't (but you do, and she knows that because she's your mom and moms know everything). Who is willing to drop everything at a moment's notice and come down to help clean or babysit or bake or sew or whatever. Who let you play Beauty Parlor on her when you were 8 and sat patiently while you applied frosted blue eyeshadow up to her eyebrows or accidentally got a touch close to her ears when you were practicing with the curling iron.
That would be our mom.
We are blessed with a fantastic, talented mom.
A mom who can sew wonderfully, and made all the bridesmaids dresses for my sisters' and my weddings. Who taught us all to sew, and is the reason all three of us have sewing machines today.
A mom who taught us how to cook and bake from an early age, so I now know how to make a proper pie crust and love to bake cookies from scratch.
A mom who oversaw roughly 16 years worth of 4-H projects from my sisters and me. Who volunteered in foodstands and as a leader. Who taught us how to hang wallpaper and refinish furniture.
A mom who inspired a love of reading in all of us as well.

A mom who loves and supports us unconditionally. Who sits back and lets us make seemingly stupid mistakes/decisions for ourselves but is right there when we need her.
After having both the kiddo and the kidlet, my mom came and stayed with us for a few days. She was invaluable - helping clean and cook for us and taking care of us (mostly me and the new babe).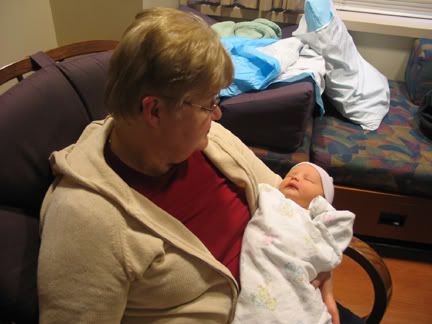 Mom and the kiddo.
Mom and the kidlet.
Thank you, mom, for being such a wonderful mom and role model. We are blessed and love you.