Each month, the fabulous ladies at
iheartfaces
take a week off from the challenges and post a generic "My Story in Photos" theme for the week. It being November and all that, it's only fitting the theme this week is
Thankfulness
.
I'm thankful for many things: my wonderful husband, my goofy kiddo and my independent kidlet. The warm, dry weather that's finally allowing for harvest. The gracious gifts that God has given me.
But right now I'm especially thankful for my family.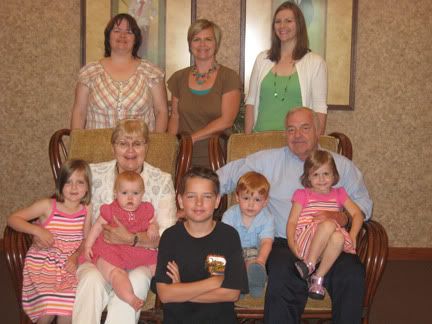 And for doctors. Because without them, I wouldn't have the
sassy niece
on the far right.
Right now my nephew (the one in the middle who's actually kind of smiling in a picture for once!) is on his way to a larger children's hospital 30 minutes away from where we live (and 90 minutes from where my oldest sister lives) due to complications from pneumonia he contracted after having the flu. I'm thankful they're doing everything they can to make sure he gets better. I'm thankful we have the resources nearby that allow for him to get better.
I am thankful that I am blessed with a wonderful family. We support one another, we care for each other, and we have fun together. I hope that I can build the same kind of relationships with my own children and they feel the same towards their siblings.
When my sister calls, saying they're at the hospital, I'll offer to do whatever she needs to make their stay easier. I know she would do the same for me. Because we're family, and that's just how we are. And I'm so thankful for that.
See what other people are thankful for over at
iheartfaces
.