I am thankful.
I am thankful I have a loving and caring husband who drove two hours up to my parents even though he's not feeling 100% yet.
I am thankful I have two darling and hugely entertaining children that fill my life with love and smiles, even when they're crying and whiny and want to be held all the time.
I am thankful I have good health, a lovely home, a wonderful job, and a supportive family.
I am thankful for all of God's blessings He has given me.
I am thankful.
--------------------------------------------------
We had a wonderful Thanksgiving meal.
A wonderful, large, tasty, filling Thanksgiving meal. And I've been grazing on pie the entire afternoon.
We browsed through the Black Friday ads after the meal. After my experience last year, I wasn't sure if I wanted to try it again, but there are some really good deals to be had.
The only problem is that we're at my parent's, which is nowhere near any major stores or shopping malls. So I will be getting up around 3 am tomorrow and driving half an hour to the nearest "city" so I can elbow people out of my way and grab my desired goods. Oy.
Thankfully, I was able to purchase one big item online. I've wanted a KitchenAid stand mixer for a long time, but could never justify the cost for one as we really don't have the room in our tiny little kitchen. But one of the department stores had a really good deal on one as a Black Friday special, and it was available online.
What I really wanted was the super cool 90th Anniversary mixer with the glass bowl, but that was sold out already. *pout* Instead, I got the 6qt professional series mixer for a good deal, including a $50 rebate, which made it just over half the original price.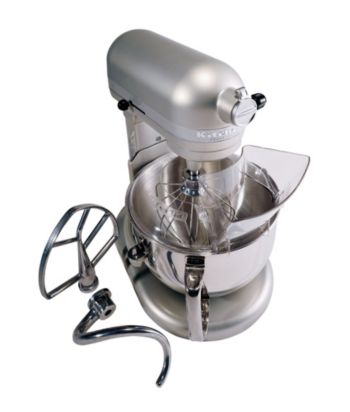 Isn't it pretty? I still have no idea where I'm going to put it in my tiny kitchen, but I don't care anymore. Besides, I'll hopefully have a new, larger kitchen within a year.